The blue gold in the Garden of Eden
A film by Leslie Franke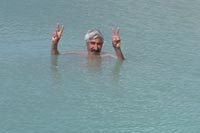 If oil is a cause of war in the Middle East today, then it is going to be water tomorrow.
Opening film for a theme night water, by Leslie Franke, with Hermann Lorenz as co-author und producer. Arte /ZDF
Record viewing figures of 1,65 Mio. at Arte! Festivals: Ekotop Bratislava, Filmfest Florenz, Oekomedia Freiburg, ECOmove Berlin, Film21, Filmfestival für Nachhaltigkeit, Zürich, Green International Film Festival Taipei in Taiwan, Umweltfilmtage Bremen, festival.cinefeuille, Festival Slowakia.
Awards: "Europäischer Fernsehpreis 2003" of 20. ÖKOMEDIA in Freiburg, " Prize of Zavody Slovenskeho Narodneho povstania,Inc." of the 30. Int. Festivals EKOTOPFILM Bratislava, Slovakia, "Laudable Mention", ECOmove, Festival of Internat. Enviromental Films, Berlin 2003, Tour of Oekomedia through 16 German and Swiss cities, international sale to Japan, Finland und Slovenia, 2004 Grant Prix, Cinefuille, Gallic, 2005 Großer Preis des Mediterranen Wettbewerbs, Ecofilm, Athen,
Film presentations organized by : TU München, Attac, Nabu, Heinrich-Böll-Stiftung, Goetheinstitut Washington, "Brot für die Welt", Agenda 21
arte/ZDF, 59 Min., by Leslie Franke\ Produktion KernTV 2003
read more: The blue gold in the Garden of Eden
Trailer: BLUE GOLD IN THE GARDEN OF EDEN